Pace Football Stays Hot
Coach Andy Rondeau and the Pace football team have been red-hot this season, bouncing back from their season opener one-point loss to Millersville. The team has won their last three games against Southern Connecticut State, Franklin Pierce, and Saint Anslem, and are currently tied for first in the NE-10 (Northeast- 10) football standings.  
Looking back to a few years ago, the football team has put in the work to change the culture and performance drastically. Rondeau says hard work has always been the name of the game. 
"It's always been the same message, it just takes time. Change takes time," Rondeau said. "I really don't know an example of radical change that happens quickly. We're attracting guys who would be a good fit for the program, so we can help them grow and mature as players."
Senior quarterback Carlton Aiken gives credit to the players in the past who have helped shape the team to what they are today. 
"The group of guys we had in the past helped get us where we are now," Aiken said. "We're really focusing on the small details, getting a good foundation, and everyone buying in."
After the New Haven game, Pace's next three games will all be home: Assumption, Bentley, and American International College. Playing in front of home fans and the energy at Pace Stadium is part of why junior defensive back James Day loves game days.
"I love the atmosphere of home games. I love the sounds of our own stadium, our fans and the way our turf feels," Day said.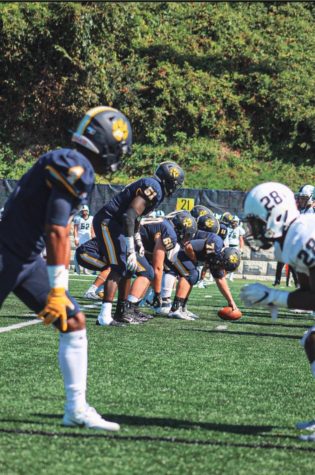 Throughout the season, Rondeau and his coaching staff try to instill in the team to think of and make decisions for the collective, rather than the individual.
"It's not always going to be good, it's hard. We ask them to be on time, be present, and be mindful and respectful of teammates," Rondeau said. "We're ready to go with them to find a way to get it done. If you decide it's something you want, you go and get it."
Being committed to the team is a common theme every day, whether it's practice, lift or a game. The boy's breakdown after every session is on the word "family". Having each other's backs and having faith in your teammates is one reason this team works together so well.
"Everyone makes a difference. Everybody does their job and understands their role, whether it's a freshman or senior, everyone plays a factor," Aiken said. "I think based off experience, knowing what other seniors have done in the past and building off of that, if we're having a bad practice one of the older guys will say something to the team like 'we need to pick it up' and we'll be asking players if they need help with anything." 
Speed is a major asset that Day thinks sets Pace football apart from the rest. Being more athletic, fast, and having better coaches are all major factors that help craft this football team. 
"There's a lot of pressure, but that comes from the pressure we put on ourselves. We expect to win. We work hard all year round to play ten or eleven days, and we expect to win each game," Day said. "I'm just one of the eleven guys that go out on defense on any given night. I'm one of the team."
"My goals are team goals, which are to win," Aiken said. 
About the Contributor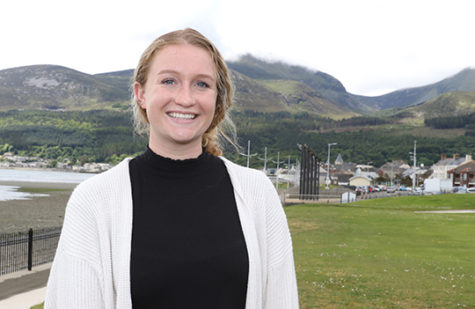 Alexis Nieman, Media Editor
Alexis is a junior Communications major and Public Relations minor. At Pace I am the News Editor for the Chronicle and a member of Entrance One PR club....