Just Friends
Hello Friends,
It's 2017.
New year, new books to review and make playlists for. (Yes, that is a mouthful. No, I don't regret it.)
First up this semester, we have a book that has taken the internet by storm. If you, like me, have Twitter and follow all the funny, girly, relationship-y accounts – even though you haven't had a solid relationship for some time but you continuously tell yourself that you don't care. You've probably seen tweets like this: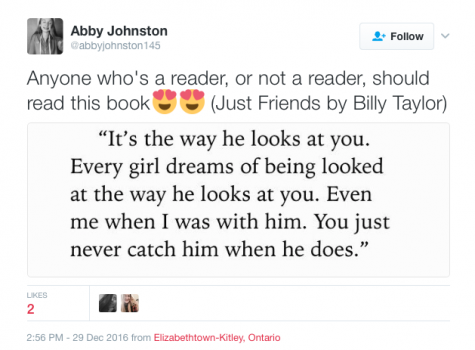 Obviously, being the reader that I am, I accepted this challenge, and boy, am I glad that I did. In case you haven't already gathered, this week's book is Just Friends by Billy Taylor.
The story follows best friends forever, August and Ethan, who met at Ethan's 7th birthday party and decided to become besties after Ethan performs a magic trick and brings her a juice box (my kind of man). They do cute things like buy or make each other presents with sentimental value, only have one other friend because no one else seems worthy, and be each other's family – it's adorably disgusting. Then after a car accident they are both involved in, a switch goes on and August develops feelings for Ethan, but can't find the right time to tell him. Everyone is rooting for them, and when I say everyone, I mean EVERYONE. Even you, without having read this book, are rooting for them to fall in love and become a couple because it's just the way God intended it.
I need to start off saying that this book was/is/always will be relatable. Everyone has had a crush on or developed feelings for a friend of the opposite sex (or same sex, whatever makes your canaries sing) and not fully known what to do about it. Whether we want to admit it or not is irrelevant, the point is that no matter who you are you will be able to put yourself in these characters' British shoes. Yes, I did need to clarify that the characters in this story are British, therefore, they are just a smidge better because you can imagine them with charming little accents.
In case I haven't convinced you enough to read this book, take a quick look at Billy Taylor aka the English cutie patootie who wrote it: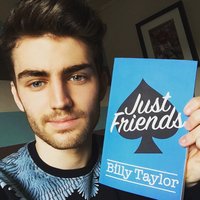 I mean I wear glasses, so my vision may be a little compromised, so let's try another picture for the non believers.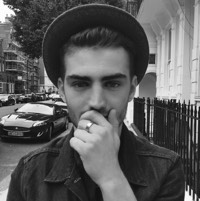 Yep, he's still cute in black and white. Just making sure.
Like always, I have created a playlist to accompany this book – I hope you enjoy.