Anastasia on Broadway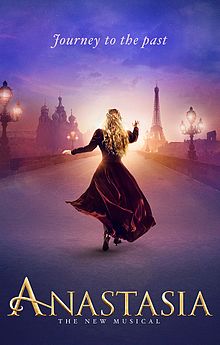 Pace Drama Alliance sponsored a trip for students to see the new Broadway play Anastasia on Monday, April 3. Tickets were released to students on March 23 for $15 and quickly sold out the same day. The price included tickets to for the play and the train.
For those who aren't familiar, Anastasia is based off the 1997 film of the same name and tells the story of the legend of Grand Duchess Anastasia Nikolaevna of Russia, which claims that escaped the execution of her family since, at the time, her body was not found with the rest of her family.
In the film, the Romanov family is attacked during a ball in the palace by the sorcerer, Grigori Rasputin, but Anastasia and her grandmother escaped thanks to a young kitchen boy who lets them out through a secret passage in the wall. While fleeing on a moving train a young Anastasia misses her grandmother's outstretched hand and falls on the tracks.
Then we meet an older Anastasia, who is an amnesiac orphan named Anya, with a necklace that says 'Together in Paris' which serves as proof that she has someone in Paris that is looking for and missing her. She turns 18 and has to leave the orphanage to start work in a fish factory, but instead, she goes on a "journey to the past" to St. Petersburg to try to get to Paris and figure out who she is. Anya meets two con men, Dmitri and Vlad, who see her resemblance to the lost Romanov and take advantage to later find out she is the real thing and reunite her with her grandmother.
The story in the play is a bit different because there is not evil sorcerer Rasputin, just Bolsheviks who invade the palace and kill the royal family. While trying to retrieve her music box, Anya gets caught by a bomb, and the whole family is confirmed dead. Ten years later, St. Petersburg is now Leningrad and under Communist rule. There is now a rumor that Anastasia may have survived the attacks and con men, Dmitri and Vlad (played by Derek Klena and John Bolton, respectively) plan "the biggest con in history" by trying to find an Anastasia impersonator to get money from the Dowager Empress (Anastasia's grandmother, played by Mary Beth Peil).
Anya (played by Christy Altomare) has been living on the streets and working several odd jobs since being released from the hospital after the attack. She comes across Dmitri and Vlad who convince her that she could be the missing Grand Duchess because of her striking resemblance and the fact that she has no other memories. They groom Anya to become the perfect Anastasia by giving her history, dining and dancing lessons.
The play has an added character, Gleb (played by Ramin Karimloo), who is a general for the Bolsheviks and after meeting Anya is convinced that she may be a Romanov and reports her. He is given orders to follow her to Paris and kill her. When he finds her, Gleb finds that he is incapable of carrying out his orders and leaves Anastasia to be reunited with her grandmother.
While different from the movie we loved as children, it's still an amazing story but maybe now a bit more believable. There are 16 new songs added to the six original songs from the movie. "In the Dark of the Night" isn't one of them, but it was sampled and turned into a beautiful farewell song to Russia called "Stay, I Pray You" – not the same, but still incredible. 10 out of 10, would definitely recommend for people to see it, but I would suggest watching the film before going as a refresher or just for fun because it's available on Netflix.