In-person Senior Events to take Place alongside Virtual Ceremony
Pace University announced via email that this year's commencement ceremony would take place virtually earlier in March.
As of right now, specific plans are still in the works, however, according to Hillary Knepper, the Interim Associate Provost of Student Success, the commencement committee would like to have some form of safe, in-person celebration available for the graduating class. They are still working out dates and logistics for such in-person events and the virtual ceremony. The team welcomes student input and encourages students with ideas to reach out to [email protected] or SGA.
Knepper said in an announcement released on March 18 that the virtual ceremony is meant to host components that could not be changed last minute (guest policies, keynote speakers, etc.) while the in-person events will be easier to adapt as safety guidelines change leading up to May.
"I think one thing that the pandemic has shown us is that we are resilient and creative as a community in resolving these challenges that have been put before us," Knepper said. "How do we make this graduation special? … There are very, very few graduating years where students can talk about what this experience was, to graduate in the midst of a global crisis. But I do think that all of this has created a stronger family and a stronger community."
Knepper says that the commencement committee started planning for this year's ceremony in the fall. They prepared ideas for both in-person and virtual scenarios, as they were unsure what to expect come spring. This semester, they evaluated current state and CDC guidelines along with infection rates across the country and decided to lean on the side of caution and host commencement online. They believed this to be the safest and most equitable option, as some students and families might not be able to attend an in-person event anyway.
"The last thing we want to do is disappoint our community, because this is something that as faculty and as staff, we look forward to as well," Knepper said. "It's all of our hard work coming to fruition in seeing our students graduate, and it's such a great time where we all come together. We recognize that that disappointment cuts across our students and families who are our first and our biggest priority."
Knepper says that the committee hopes to make commencement as special a moment as it can be under current circumstances, and they want to provide students with the opportunity to take pictures in their caps and gowns, at least in some form.
Meanwhile, senior Management major Ashley King has started a petition in response to Pace's virtual commencement announcement. She says that she and the rest of the student body understand the safety concerns, and they would never want to jeopardize public health. However, she wishes that administration had been more transparent with students during the decision process.
"We're not mad that you want to be safe" Kind says. We're mad that you want to be safe while ignoring our pleas, disregarding us."
She says that, at the start of the semester, Pace sent a survey to the class of 2021 to gauge their thoughts on commencement. After King submitted her responses, she did not receive any updates from the school until they announced the virtual ceremony five weeks later. She believes that Pace should have spoken with the student body during that interval of time and been more open about their decision process.
Brenda Oliveira, a senior Global Studies major, shares this sentiment.
"They definitely should have stayed in communication with us," Oliveira says. "For those five weeks, we were just unsure what that survey meant… They should have let us know that they were trying to look for something, but things seemed difficult to explore. Just receiving that email was a huge shock. That survey gave us hope that something was coming our way, and then for those five weeks they were silent."
Both King and Oliveira feel that commencement is an important part of a student's academic journey, and they emphasize its symbolic significance in honoring students' hard work, dedication, and sacrifices. They also spoke of the meaning that graduation holds for first generation college students, international students, and students whose parents strived to give their children such an opportunity.
"My parents weren't born in America," King says. "They sacrificed a lot to get my sister and I the good life that we have. And it comes full circle. We work hard because we want to do it for them."
Oliveira was raised by a single parent, and they have always looked forward to her graduation.
"It's a moment of glory. I don't mean to romanticize it, but I will," Oliveira says. "During these hectic times, I'm proud of [our class] for staying strong and not giving up. It means a lot… All we asked is to be recognized for that…. I don't want this experience to be robotic. My entire senior year has been robotic."
King says that, for the in-person events, she does not want "a pizza party type of deal."
"We want something that's meaningful," she says. "This is a celebration, but it's not just any celebration. You can't just make up for a commencement without trying to recreate a commencement… I definitely want to show up in a robe, and I wanna walk somewhere. I don't care if it's to the place the farm used to be. I don't care if it's in the basement of North. I just wanna walk somewhere. This milestone is one of the few milestones we have left… Some people will go to law school or get their MBAs, but a lot of us either can't afford that or we have no desire to do that. Even if you do pursue grad school and you get that graduation, great. But we're not gonna forget the four years that led up to grad school. We're not gonna forget about the people that brought us there or the activities or the efforts that put us in that position."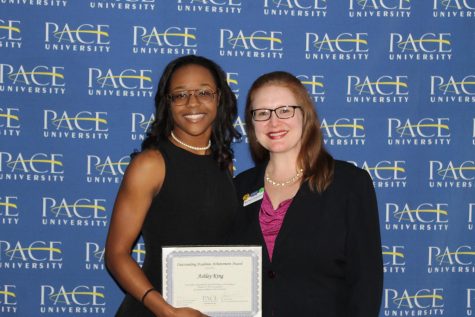 King feels that she's losing out on the "finish line" that will encapsulate all she has been striving towards and all she has experienced in and out of the classroom. She highlights the richness of her college experience, how she started as a quiet and reserved freshman and grew into the person she is today. She says that there is no tangible thing that anyone can trade for a college experience, because it offers students self-fulfillment and actualization.
Oliveira says that she would have been willing to wait if Pace had decided to postpone larger ceremonies until later in the summer when, hopefully, society has reached a higher herd immunity. She recognizes Pace's safety and liability concerns, and whatever happens, she wants it to be safe. However, she also wants it to give her a proper sense of closure on her college experience and the chance to see her class recognized for all they have done.
"We just want to feel like we matter," Oliveira says. "We already got our entire senior year taken away, and it's not Pace's fault, we understand that. It's just the circumstances. We understand it… I know we can't predict what happens next, but I at least want Pace to show us that we care… During orientation for the class of 2021, Pace told us to get grit. If you search 'what is grit?' it's having the perseverance to solve a situation. And it's sad that they highlighted that to us, and they're not getting grit for us. We are aware for and we respect health and safety… All we ask for is more effort seeking a solution. All we ask is for them to get grit."
Knepper says that she recognizes students' disappointment and sympathizes with their frustration. She is amazed at the graduating class's accomplishments in light of the pandemic.
"Congratulations because you have managed to continue your education amidst a terrible time," Knepper says. "Don't underestimate what this says about you, your strength, determination, and resilience. These are all critical things of which you should be very proud… This is hopefully has proven to you that whatever you set your mind to, you can achieve… As you move forward, know that we are intensely proud of you, and you are a part of our Pace family… when people see on your resume when you graduated, that's a mark of honor, a badge of valor… Don't forget to cheerlead and champion your peers here at Pace who might need a little more support to get to where you are today."
In the end, this year's commencement will require creativity, communication, and cooperation in order to give the class of 2021 a commencement that feels meaningful without jeopardizing health and safety.
"It comes down to some sort of middle ground," King says, "on top of accepting we won't get what we wished for initially, but hopefully we'll get something."