Pace partners with Allied Universal as their new campus security provider
As of August 16, Pace University officially switched security providers from Winfield Security Corporation to Allied Universal. This new security company will be the sole provider of safety and security services for all Pace campuses.
According to an email blast sent by the Executive Director of Safety and Security, Vincent Beatty, Allied Universal will take over and provide "Security Officer and Fire-Life Safety Director services…" The email blast was sent on July 30 to confirm the change in security after 12 months of research on behalf of the Pace University security department.
Allied Universal has over 50 years of experience in their campus public safety and security program. According to Beatty, their employees are "experts in higher education and will provide Pace with 'Higher Ed-ready' security officers." They are trained in Title IX, the Clergy Act, VAWA, FERPA, among other crucial college topics.
Prior to this change, Winfield Security partnered with Pace for the past 20 years. Winfield Security offers its services in New York and New Jersey for: corporate, commercial and residential building management, healthcare, institutions of higher learning, manufacturing distribution, finance, and more. Their branch offices are located in Northern New Jersey, Westchester County and Manhattan. They serve Fortune 500 companies along with smaller local and regional companies and nonprofit organizations.
Allied Universal is the largest provider of security services in all of North America. They have been in business for 60 years and currently serve 42,000 sites. They have a wide industry expertise in: chemical utilities, commercial real estate, defense and aerospace, education, financial institutions, government institutions, healthcare, manufacturing and industrial, public transportation, residential, and retail.
Allied Universal is the only contract security provider who partners with the Clery Center for training in campus safety areas. The Clery Center offers training to prevent campus violence to higher education professionals. Higher education security employees of Allied Universal also participate in Title IX training, fire safety training, first aid and CPR compliance, emergency response planning and active shooter preparedness among many other program trainings.
During the spring 2018 semester, the security department introduced new safety trainings for students and the Pace Safe App to increase safety awareness on campus. Some of the student trainings include active shooter response trainings, unit help arrives training and NARCAN trainings. Each of these trainings took place on several dates over the summer intermission and will continue throughout the semester.
The Pace Safe Application offers a variety of features to help students stay and feel safe while on campus. There is a feature to share your location with a friend, incident reporting, a campus map, emergency contacts and many more helpful safety features.
Pace took bountiful steps in advancing their security systems over the past year. Through switching to Allied Universal, offering safety trainings and providing a safety app, Pace is preparing for the anything that may lie ahead.
About the Contributor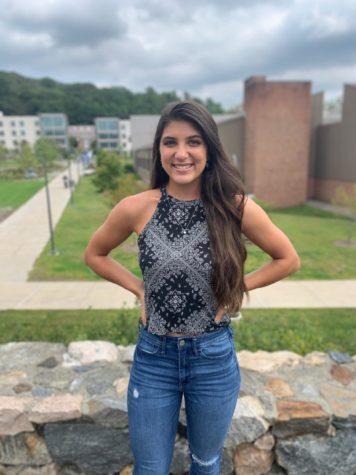 Christina Bubba, Editor-in-Chief
I am a senior Digital Journalism major with a minor in Public Relations. On campus, I am Editor-in-Chief of the Pace Chronicle, captain of the Cheerleading...